How to find "Caravane Rose du Sable"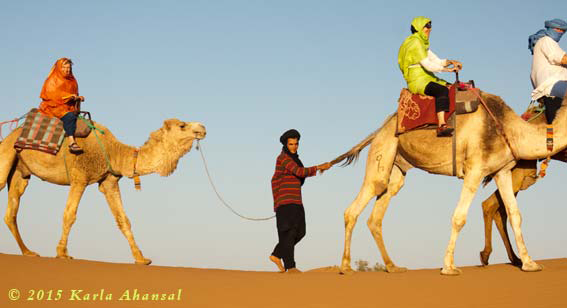 You will find us at the end of the riverine oasis of the Draa valley, short before M'Hamid e Ghizlane, province Zagora. Our caravansary is located just outside the village Ouled Driss.
The closest airport is Ouarzazate which will be approached regularly. Upon request we pick you up there. Or you take the bus or a share taxi to Zagora. From there you continue your journey with bus or taxi via Tagounite to Ouled Driss.
Mostly you get cheaper flights to Marrakesch and Agadir. However, the continuation of the journey takes longer as the Altas has be to be crossed.
As of recently the Royal Air Maroc flys 2 times a week (Monday and Thursday) between Zagora and Casablanca. Meanwhile these flights can be booked in a travel agency.

We are happy to help you booking the tickets.

By car:
Zagora is located in the Draa valley. From there an asphalted road leads via Amzrou and Tammegroute across the Jbel Beni and through Tagounite along the Draa valley. About 20 km after Tagnounite you pass a small village and drive through Ouled Driss. Short after Ouled Driss is the Hotel Dar Azawad. Oposite to the hotel you turn left into a dirt road. You will find us after about 200 m to the left.

Our GPS data are: 29.8268-5.6663.

Please pay attention to our sign.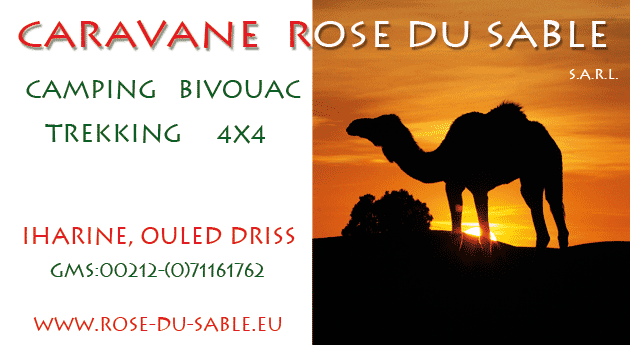 You will find us also by searching in google maps www.maps.google.com. Enter "Caravane Rose du Sable".
Please contact us in case of any assistance from our side. We are most happy to help you.